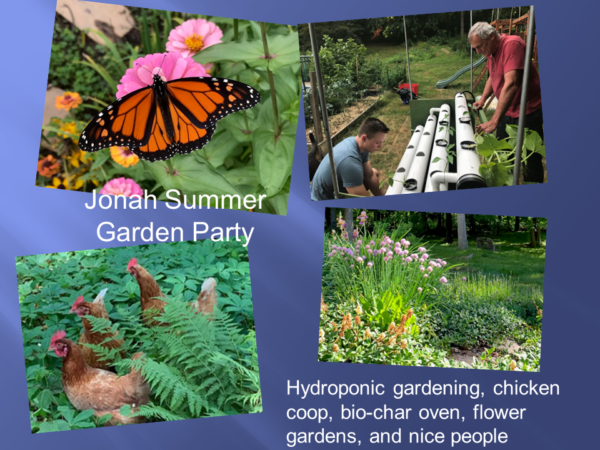 The Board of the Jonah Center takes great pleasure in inviting everyone to our Summer Garden Party on Saturday, July 20, from 4:00 to 6:00 PM at the Middletown home of JCEA Board members Kathy and Mark Meyering. (Rain date is Sunday, July 21.)
Highlights of the event include a hydroponic vegetable-gardening system designed for people in rural Haiti; a backyard chicken coop; beautiful flower gardens; a demonstration on identifying invasive plants; a bio-char oven that produces a highly enriched soil amendment using pyrolysis of woody biomass; and an activity for children. Enjoy the company of others who care about the environment. Delectable, healthful refreshments, wine, beer, and non-alcoholic beverages will be served. The yard enjoys afternoon shade so you won't be too hot.
You may purchase a ticket to the event by making an on-line payment of $15 per person (children 12 & under free) through the donate button on the Jonah Center website and writing "Garden Party" on the form. If you prefer to pay by check, simply click here to contact us to reserve your spot and then mail a check to The Jonah Center, PO Box 854, Middletown CT 06457. Once your payment is received, we will email you the address and directions to the party. We will recognize those who come by bicycle or carpool with at least 2 other people.  Space is limited to 60 total.