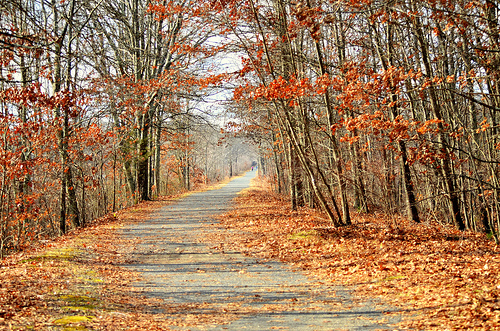 The Jonah Center has been advocating for the extension of the Air Line Trail through East Hampton and Portland to Middletown.  In December 2013, the Jonah Center in cooperation with the Town of Portland organized and presented a public presentation on the current situation and possibilities for extending the trail.  The presentation was attended by over 80 people.  Since that presentation, the Town of Portland has created an official Air Line Trail Steering Committee, allocated development funds, hired a consultant, created a site plan, and successfully negotiated an agreement with Eversource Energy to use a 2.3 mile section of the trail in Portland owned by Eversource.  The agreement was formally signed on January 20, 2016.  At the same time, the town has also applied for a state grant through DEEP for funds to renovate the trail.  This application received initial approval by the state bonding commission on January 29, 2016.
In the meantime, East Hampton has developed plans and received funding to continue the trail from the town center to Portland.  It is hoped that the East Hampton and Portland sections can be linked up and open to the public by sometime in 2017.
Click on the PDF file link PORTLAND AIR LINE TRAIL UPDATE below to view and download the latest developments with the Air Line Trail in Portland and East Hampton as of January 2016.  Click on the other link AIR LINE TRAIL PRESENTATION to view the original Jonah Center presentation given in December 2013 in Portland on the possibilities of bringing the Air Line Trail to Portland and Middletown Connecticut.
Portland Air Line Trail Update February 2016
Air Line Trail 2013 Jonah Center Presentation
The map below shows the original route of the Air Line railroad line as it ran from East Hampton to Portland before crossing the river to Middletown.  This is the portion of the trail that Portland and East Hampton are now trying to develop as a multi-use trail that would connect to the already developed sections that run from East Hampton to Putnam in northeastern Connecticut near the Massachusetts border.