There are two safety hazards involving parking on Main Street that everyone agrees on.
Backing out into oncoming traffic is dangerous, especially when you are parked next to a big van or pickup truck that totally blocks your vision.
Bicycling on Main Street is dangerous because cars backing out into the travel lane can't see bicyclists coming.
One way to address these hazards is to use back-in parking.  Here's how it works.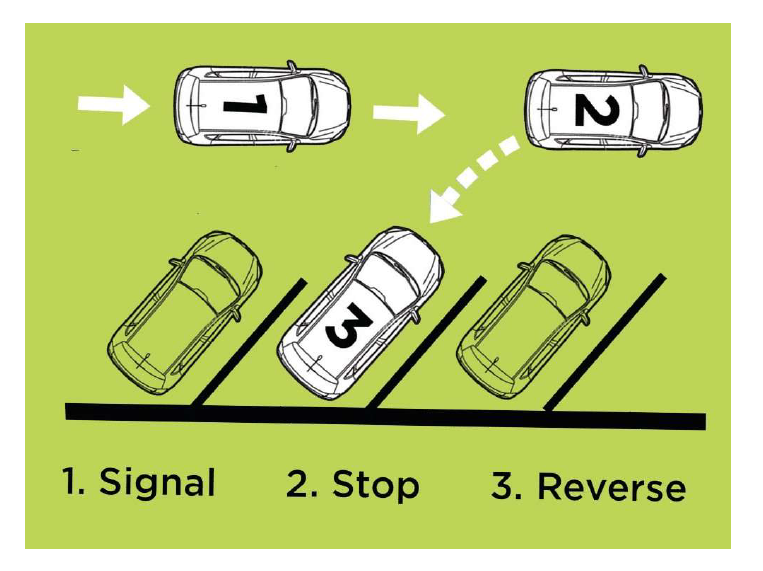 Back-in parking has these main advantages:
Drivers have vastly improved visibility by pulling forward out of parking spaces as opposed to backing out.
The street becomes more bicycle-friendly and allows eye-to-eye contract between drivers and bicyclists.
Drivers are safer when removing items from the trunk because they are next to the sidewalk, not exposed to traffic.
When car doors open, they angle backwards toward the sidewalk, directing  children and other passengers away from the traffic lane.
So here's the exciting news! Middletown's Public Works Department is preparing to embark on a pilot project to try out back-in parking on a short section of Main Street north of Rapallo and Grand Streets. (See below.) The goal of the department is to work with the community so that the pilot project can be implemented over the summer.
The change for drivers may seem difficult at first, but back-in parking is a lot easier than parallel parking. Other cities like Washington D.C., Fort Collins, Colorado, and Winnipeg, Saskatchewan have successfully implemented this approach.
Please remember that this is proposed only as a trial. It will require some adjustments on everyone's part. Drivers who have difficulty backing up will be challenged more than others. Cars with backup cameras will make it easier, and some of the parking spaces may be widened to make it easier and to avoid collisions. But if we keep an open mind and are able to embrace this change, it could solve some of the problems caused by heavy traffic on Main Street.
This pilot project is made possible by a special grant from CT DOT to the City of Middletown. Middletown's Complete Street Committee has discussed such an experiment for many years and fully supports the Public Works Department in this experiment.