Since our beginning in 2004, the Jonah Center for Earth and Art has rallied and organized the citizens of greater Middletown around a variety of exciting projects. Below are the main areas of our activity.
The Floating Meadows – Enjoying and Protecting Local Waterways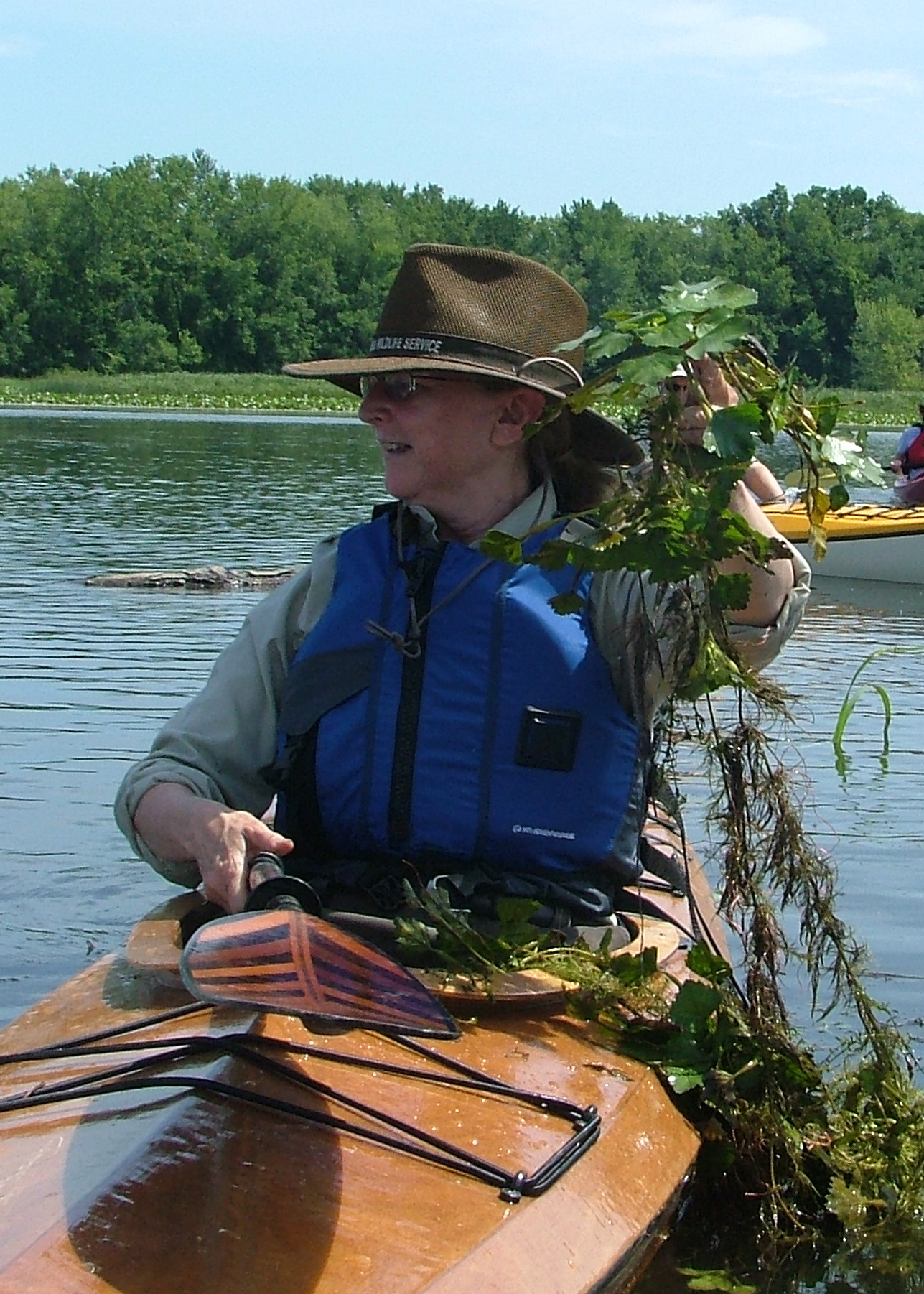 The 1000 acre freshwater tidal marshland where the Coginchaug and Mattabesset Rivers converge offers habitat for hawks, egrets, eagles, herons, swallows, fish, turtles, beaver, muskrats, flowering plants, wild rice, and many smaller organisms that support the whole food chain. The beauty and ecological value of the meadows is under-appreciated by Middletown residents, but we are changing that through our recreational and educational paddling trips. We also look out for invasive plants and threats from commercial development in the watershed. (Pictured here is Cynthia Boettner from the U.S. Fish & Wildlife Service teaching paddlers how to identify and remove invasive water chestnut plants from the Mattabesset River.)
In the fall of 2012, the Department of Public Works began construction of a kayak and canoe launch on the Coginchaug River, adjacent to the city's recycling center and closed landfill. Using a combination of city funds and a $50,000 federal grant that the Jonah Center obtained for the City of Middletown, the launch was completed in the fall of 2014.  It provides easy public access to the Floating Meadows. Such a sensitive wildlife habitat and environmental resource needs public awareness to remain protected.
Climate Change and Energy Efficiency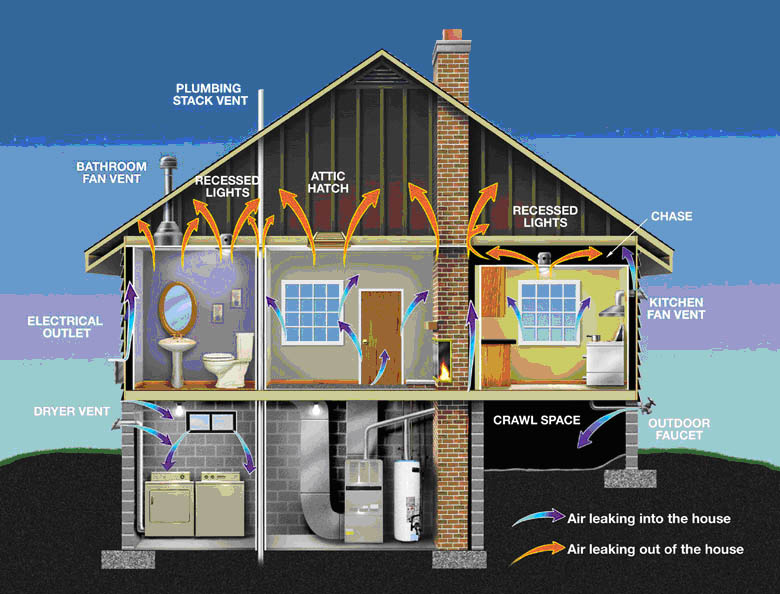 Climate Change is one of the gravest risks facing the global ecosystem and economy. While the effects are world-wide, efforts to mitigate carbon emissions must be implemented locally. The Jonah Center promotes state-sponsored energy efficiency programs for residents and businesses through our educational programs, membership on Middletown's Clean Energy Task Force, and by helping citizens take advantage of "Home Energy Solutions." For more information on these programs, visit our Eco-Friendly Living Resources page.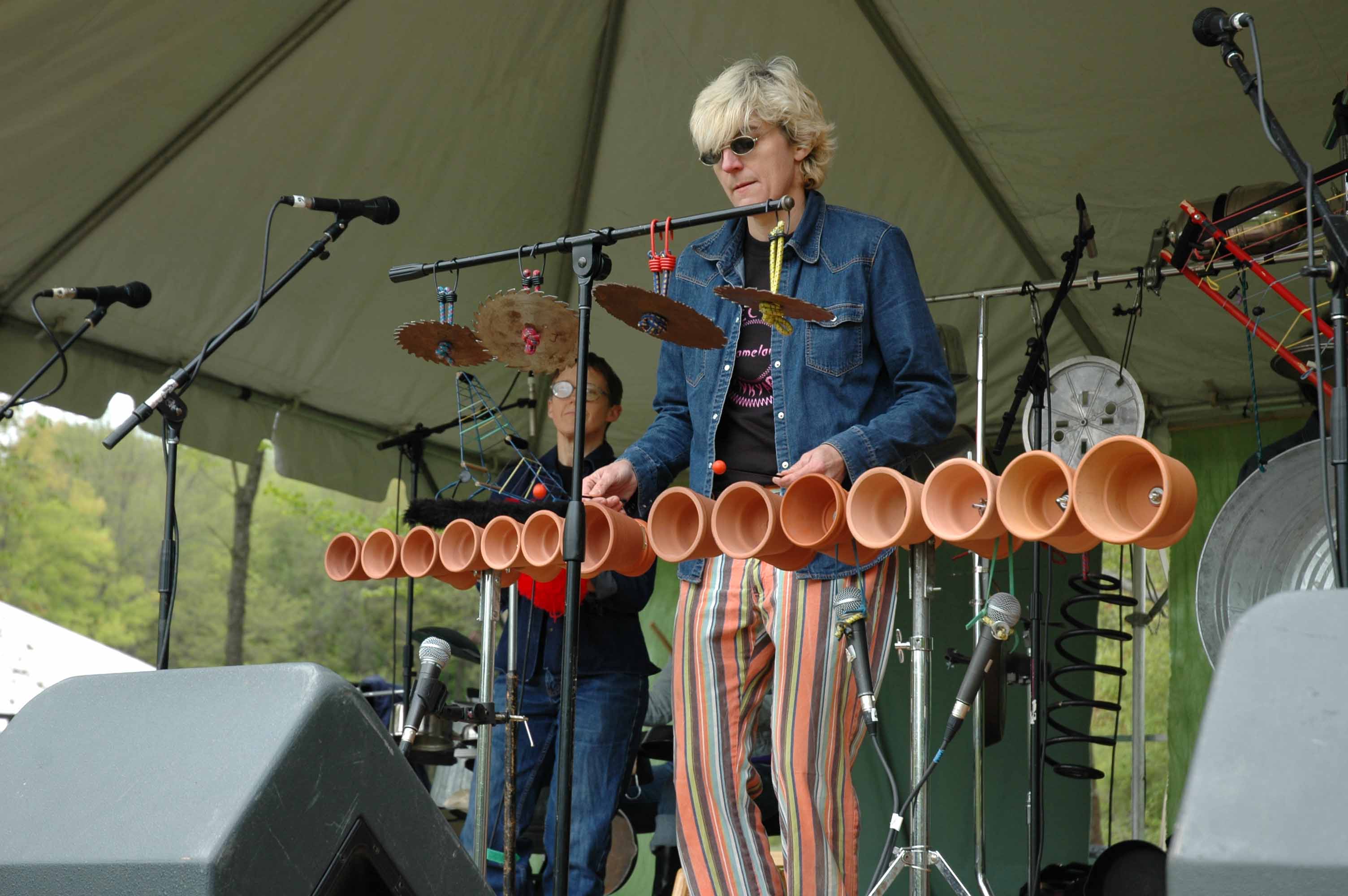 The Jonah Center has been an active community partner with other local groups, especially Wesleyan University, in programs to inform and motivate students and the general public about the reality and threat of climate change. The Feet to the Fire Festival in 2008 used the arts to engage people of all ages in this critical issue of our time. For more information on Feet to the Fire, click here.
Bicycling and Walking For All Ages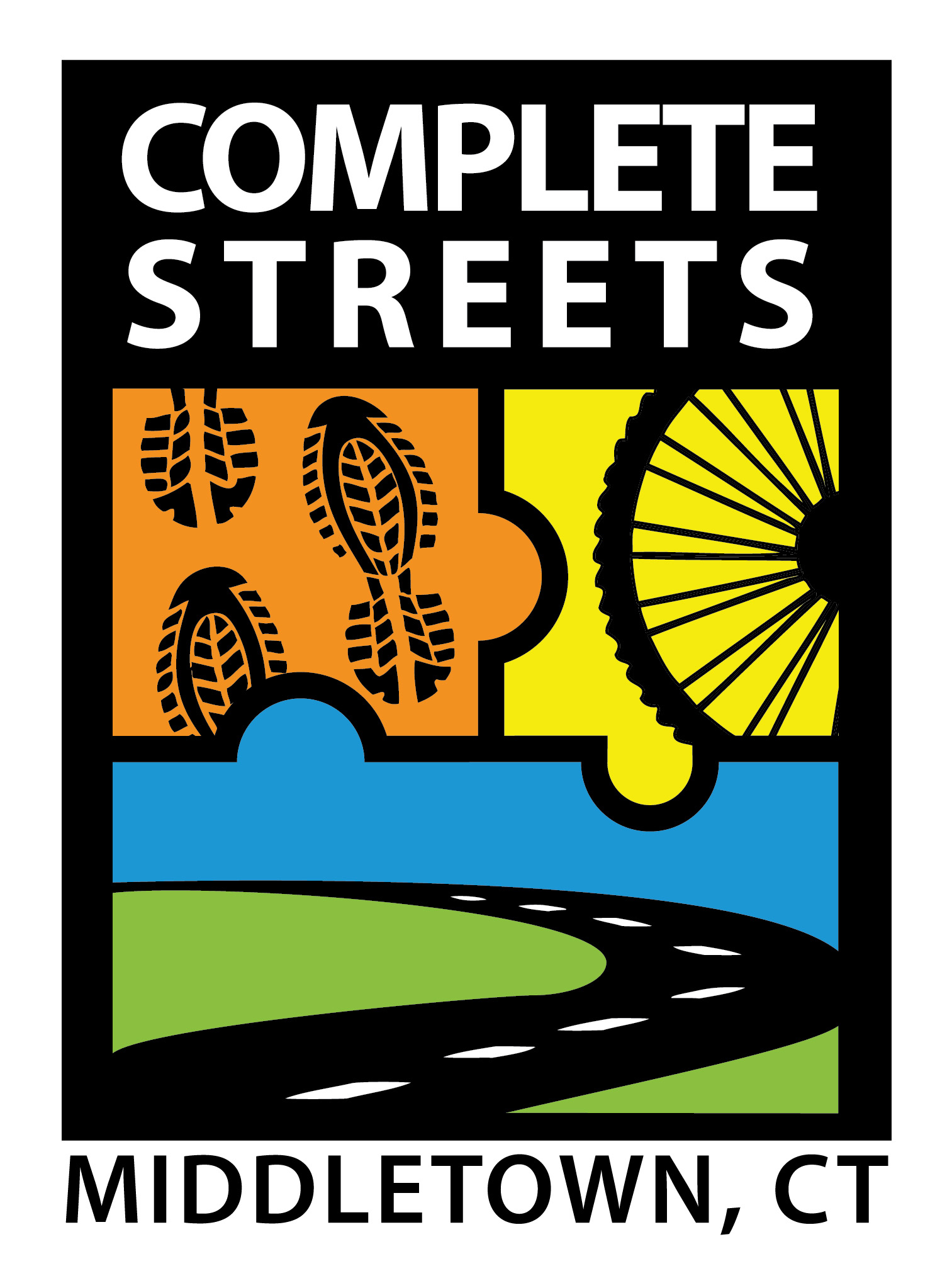 In 2012, the Jonah Center was asked by Middletown Mayor Dan Drew to lead the city's development of a plan to make our community more bicycle- and pedestrian-friendly. The "Complete Streets Committee" is developing a plan to include bike lanes and add or improve sidewalks when roadways are being repaired. We identify particular areas that pose special danger to walkers and cyclists, visit known "bike-friendly" communities, and promote walking and cycling among the general public.
Middletown's will to become more bike- and pedestrian-friendly was jump-started when the Mid-State Regional Planning Agency selected Middletown to receive $800,000 in federal transportation funds for construction of a multi-use trail adjacent to Long Lane, south of Wesleyan University. The Jonah Center was the "project advocate" for this trail and remained deeply involved in the details of its design and construction. The trail was officially opened in 2019.
In 2013, The Jonah Center sparked a project in Portland to rebuild the Air Line Trail, a multi-use trail following an abandoned rail line.  We led the organization of the Air Line Trail Steering Committee, which led the construction of a 2.3 mile section of trail. We also recruited members to form Portland's Complete Streets Group.
Eco-Friendly Landscaping, Urban Development, and Quality of Life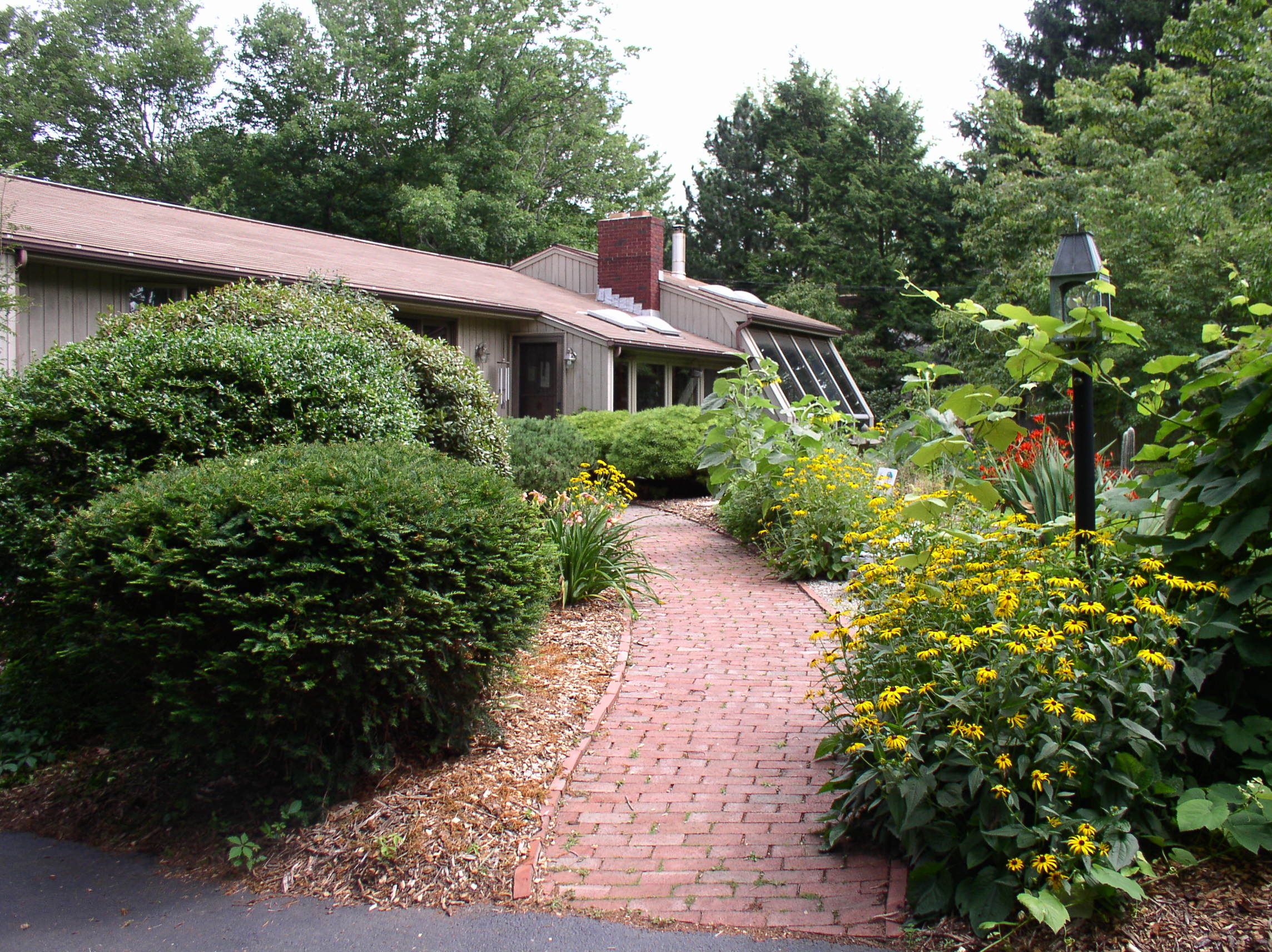 Organic Yard Care protects humans from exposure to dangerous chemicals, and it reduces the amount of toxic substances that end up in groundwater and local streams. While these chemicals were once assumed to be harmless to humans, there is mounting scientific evidence that serious health conditions result from the increasing array and quantity of chemicals in our environment – from plastics, fertilizers, pesticides, antibiotics fed to livestock, discarded medications, cleaning agents, food additives, and the oils, metals, and salts that wash from roadways into streams.
For a New England community to be healthy in the true sense, we need trees, inviting places to exercise and enjoy nature, visual and physical access to waterways, clean air to breathe, freedom from excessive noise, attractive lighting, and preservation of historic buildings. The temptations offered by certain types of commercial development, the lure of a quick rise to the tax base, and the demands of a car-dominated culture need to be resisted for the sake of economic, social, and environmental health in the long run.
Urban Forestry
In 2019, the Jonah Center began a partnership with Middletown's Urban Forestry Commission to raise the city budget for tree planting. Due to climate change and related pests such as gypsy moths and the emerald ash borer,  the city's loss of trees was approximately 100 per year. The Urban Forestry budget of $8500 was adequate to replace only a fraction of that number.  The Jonah Center launched a campaign to increase the city's tree planting budget by at least $50,000. This goal was enthusiastically embraced by city elected officials, and the increase was raised further to $70,000.  In the meantime, in conjunction with Sustainable CT's matching gift program, the Jonah Center's crowdfunding campaign raised $18,000 in private funds to plant new trees in Middletown and in Portland.
Environmental Coalitions and Government Relations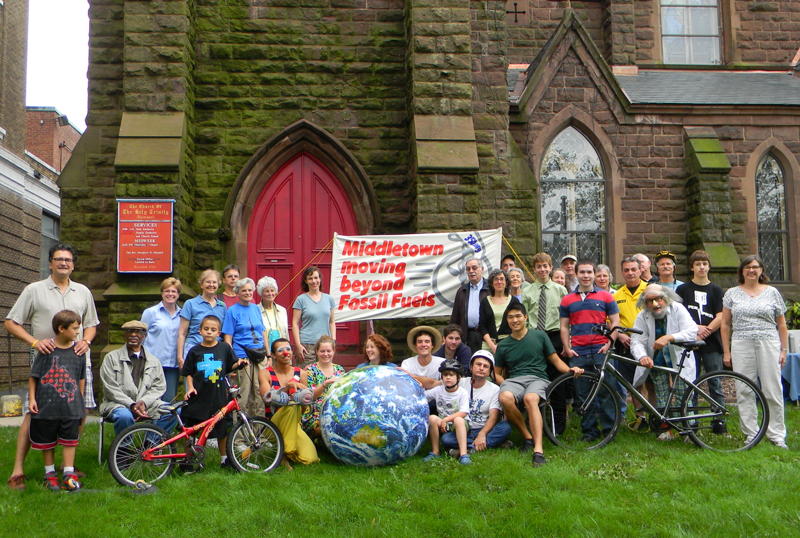 Given the complexity of our way of life, preserving the natural environment – to the extent that we can – requires science and technology. But we need more than that. We also need visionary leadership and community support in order to change the culture of waste and neglect. The best educational programs in the world, by themselves, won't help until we process our knowledge into convictions and get involved in the decision-making process.
The Jonah Center has played a key role in calling local environmental groups together. We organized the Environmental Collective Impact Network (Ecoin) in 2011 to develop common goals and direct our energies to achieve a measurable result. More information on Ecoin is available here.
Since our beginning in 2004, the Jonah Center has developed constructive relationships, especially with state and local government officials, policy advocacy groups, Wesleyan University, and Middlesex Community College.
Future Initiatives
Environmental Art
The 2014 Paddle on the Connecticut River was the Jonah Center's most notable artistic event, inv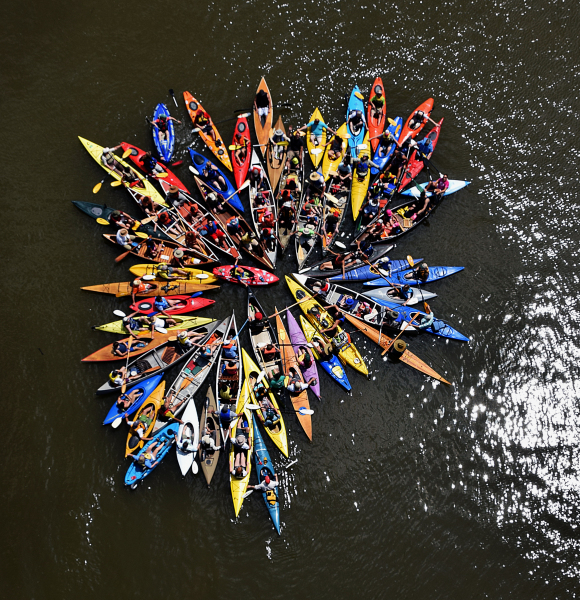 olving over 100 individuals in creating and capturing a colorful rosette of canoes and kayaks.  The photograph here was taken from the Arrigoni Bridge by Bill Bynum.
Following completion of the Kayak and Canoe Launch on the Coginchaug River, the Jonah Center looks forward to one or several environmental art installations along the driveway, involving local artists and resources.
Below are some land-based examples of Environmental Art. (Captions below photo)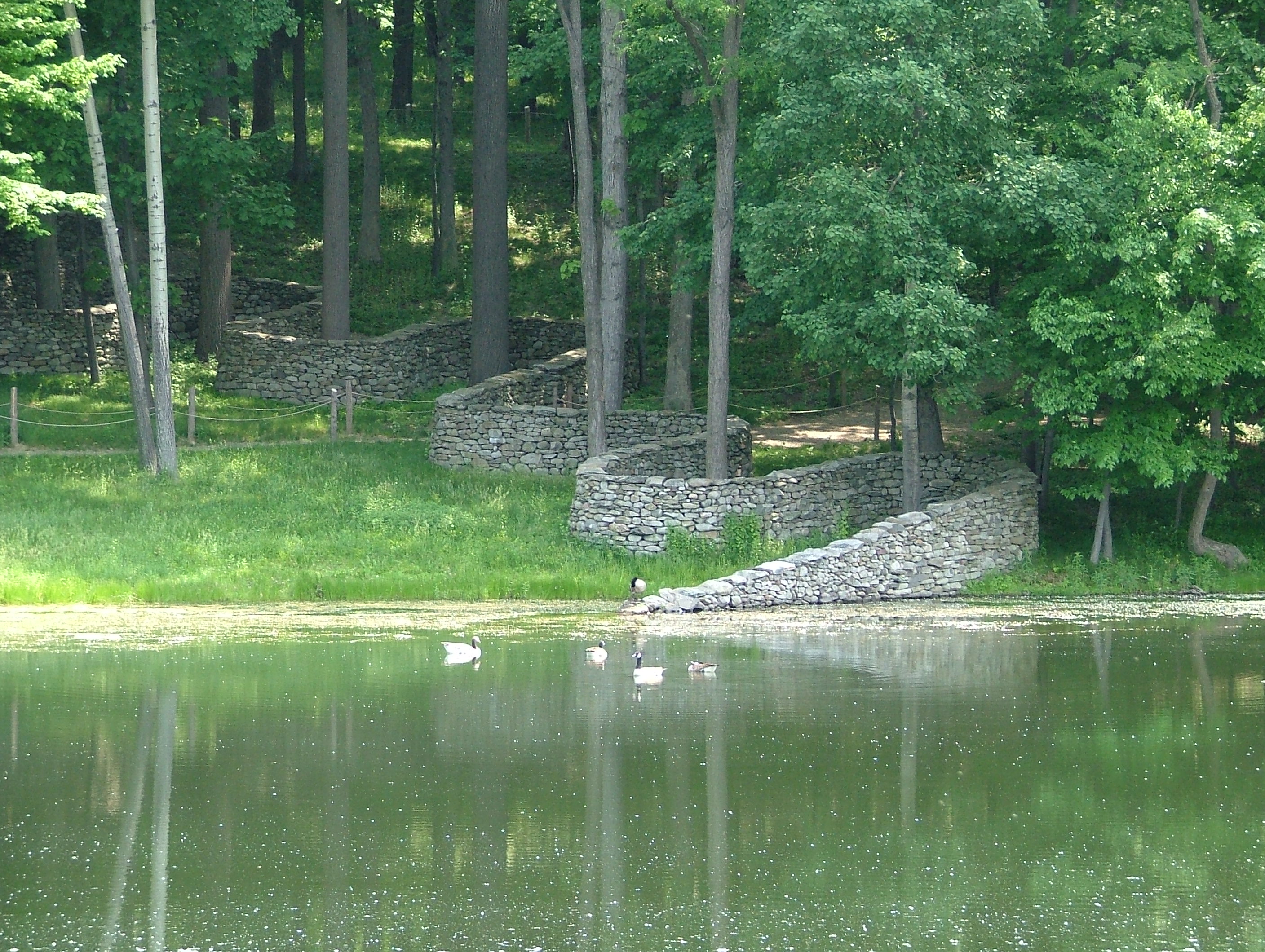 "Stone Wall" by Andy Goldsworthy at Storm King Art Center in Mountainville, NY.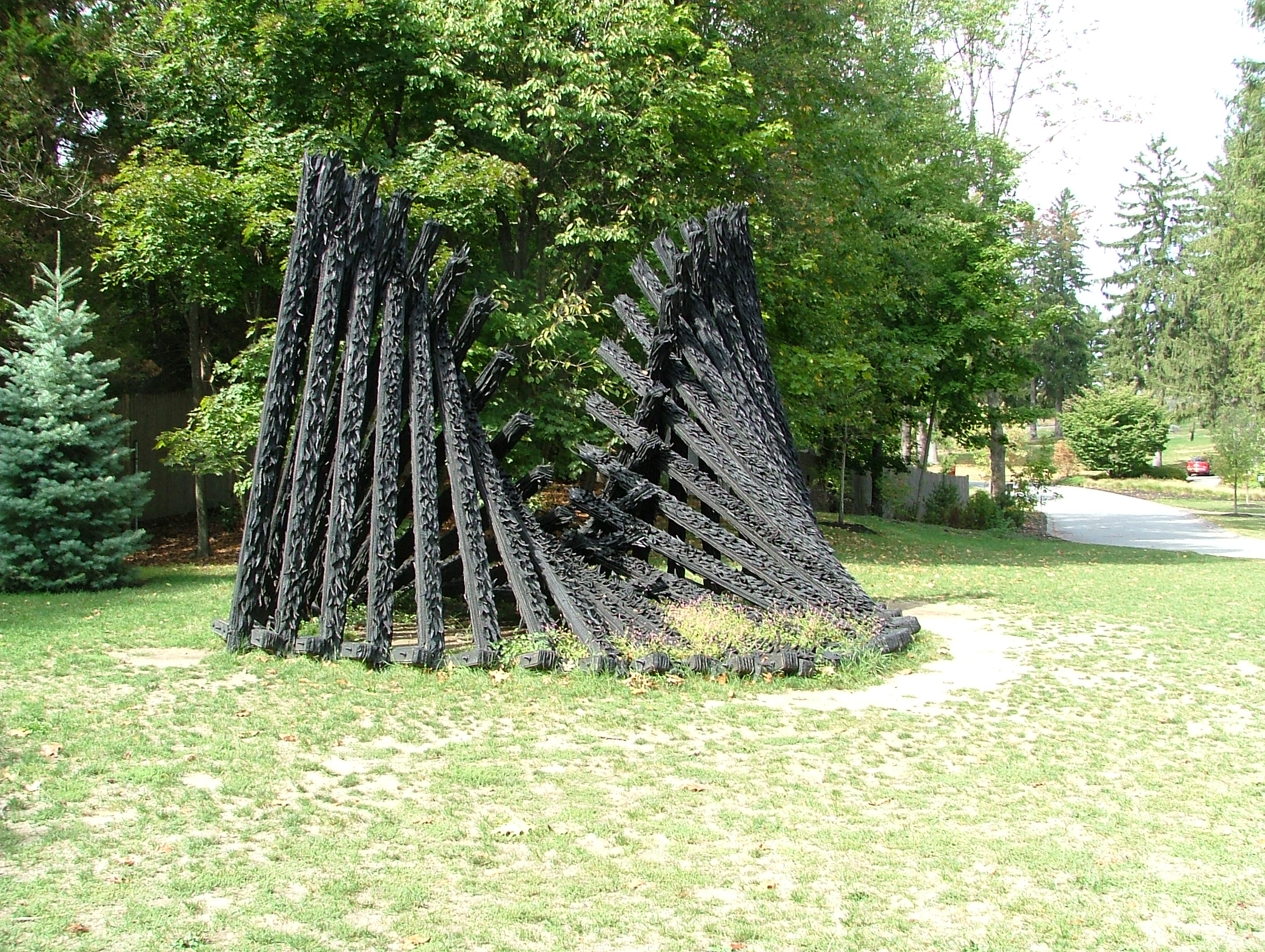 "No More Milk and Cookies" by Chakaia Booker at the DeCordova Sculpture Park in Lincoln, Mass. Constructed from used tires and wood.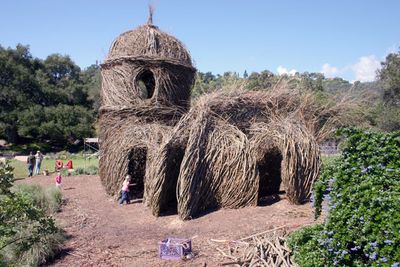 Toad House by Patrick Dougherty in Santa Barbara, CA. Constructed from willow saplings.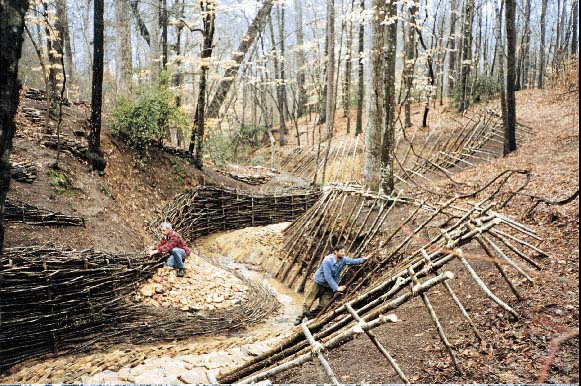 Stream Path by Giles Bruni and Marc Barbarit at the South Carolina Botanical Garden.
Preserving and Appreciating Middletown's Historic Dams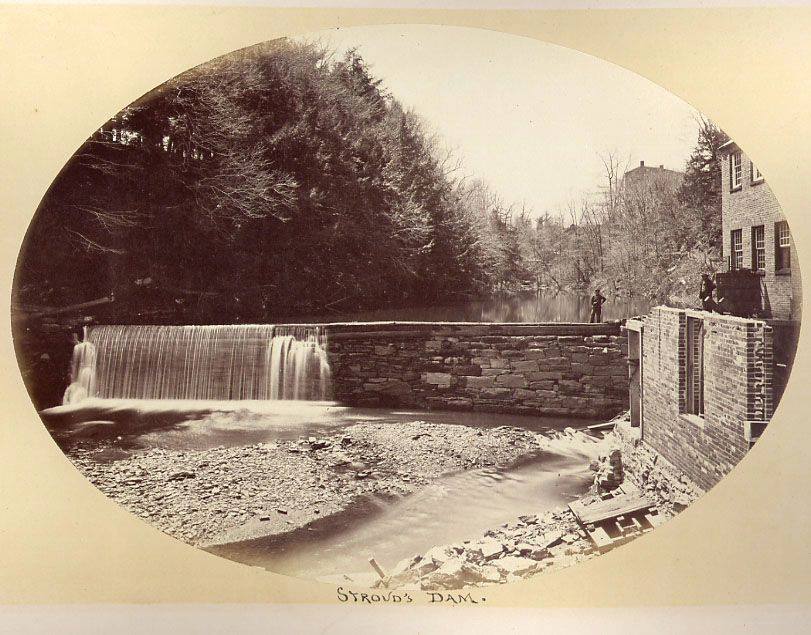 Like many European settlements in New England, Middletown fueled its expansion by building sawmills, grist mills, and factories along its best streams. Flowing out of Middletown — along with its exhausted water — were textiles, firearms, tools, locks, marine hardware, rubber goods, brakes, and more. During the era of water power, the Coginchaug River and Sumner-Pameacha stream systems each hosted more than a dozen industrial dams.
This economic past is visible in the neighborhood of every old mill, and some of these dams remain in place today. The Jonah Center is collaborating with Wesleyan University's College of the Environment and the Middlesex County Historical Society to foster appreciation of these historical treasures and to preserve them, both for cultural and environmental reasons. For information on Elise Springer's study of Middletown dams, click here.