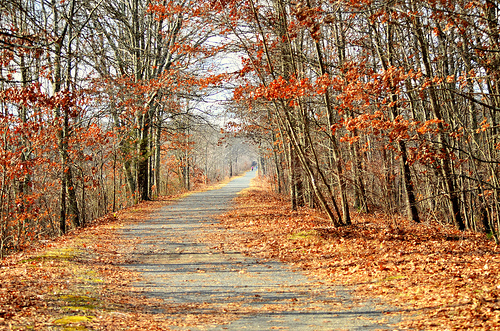 The Jonah Center has been advocating for the extension of the Air Line Trail through East Hampton and Portland to Middletown.  In December 2013, the Jonah Center in cooperation with the Town of Portland organized and presented a public presentation on the current situation and possibilities for extending the trail.  The presentation was attended by over 80 people.  Since that presentation, the Town of Portland has created an official Air Line Trail Steering Committee, allocated development funds, hired a consultant, created a site plan,  successfully negotiated an agreement with Eversource Energy to use a 2.3 mile section of the trail in Portland, and obtained a $686,000 Recreational Trails Grant from the State of Connecticut in early 2016. The actual construction work, by Dichello Construction of Farmington, began with a ground-breaking ceremony on October 28, 2017.
In the meantime, East Hampton has developed plans and received funding to continue the trail from Alden Crossing to Cobalt Road in Portland. Improving this trail segment (just east of Portland) will be somewhat delayed as that route passes through wetlands and there are drainage issues being addressed by the Army Corps of Engineers.
Click on links below to view more information on the history and goals of this project.
Portland Air Line Trail Update January 2018
Air Line Trail 2013 Jonah Center Presentation
The map below shows the original route of the Air Line railroad line as it ran from East Hampton to Portland before crossing the river to Middletown.  This is the portion of the trail that Portland and East Hampton are now trying to develop as a multi-use trail that would connect to the already developed sections that run from East Hampton to Putnam in northeastern Connecticut near the Massachusetts border.