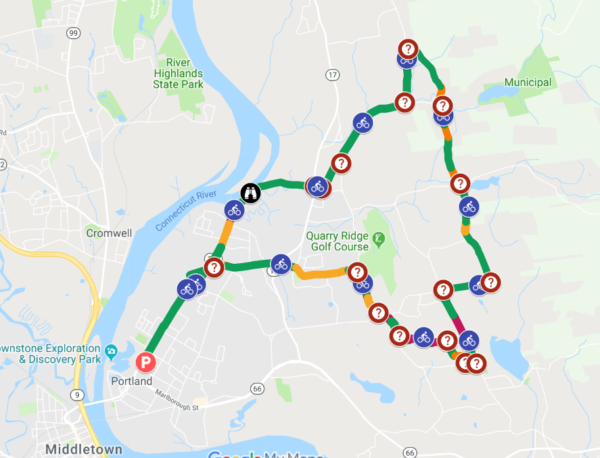 The Town of Portland has adopted and installed signage for its new, official 14-mile bike route. The route begins in the town center and makes a scenic loop through the hills of Portland, passing golf courses, farms, ponds, streams, and a close-up view of the Connecticut River at  Gildersleeve Island (where bald eagles are frequently sighted). The route was designed to be cycled in a counter-clockwise direction in order to reach the higher elevations of the town via the least strenuous (most gradual) climbs.  Bicyclists should note that this is still a fairly strenuous route suitable for persons who are in good health and physical condition.  The route may be modified to reduce the length and avoid the steepest hills. Contact John Hall for suggestions along these lines.
The Complete Streets Group of Portland endorsed the route, requested funds for signage from the Board of Selectmen, and developed recommendations for where bike route direction signs and sharrows (on Main Street) should be located. The Public Works Department was a very helpful and accommodating partner in this project.
To access the Google Map (including the ability to zoom in to see details such as street names, turn directions, and highlights, click here.