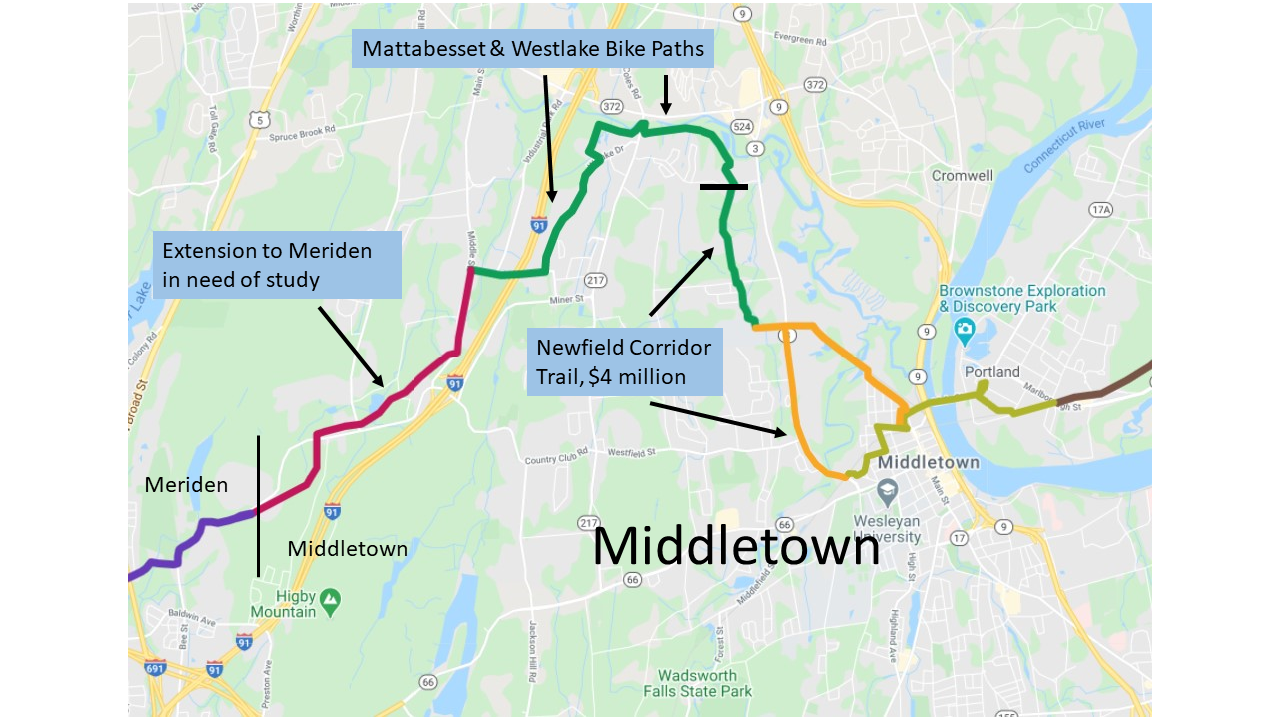 The Jonah Center's most far-reaching project — to connect the 2 longest multi-use trails in Connecticut — has been awarded 3 grants: a $315,000 route study grant by CT DOT in February 2022; a $500,000 grant by the state bond commission in April 2022; and a $2 million grant by the bond commission in October 2023. We thank Senator Matt Lesser whose leadership and advocacy has enabled this progress and funding. (Please note that none of these funds pass through or benefit the Jonah Center.) These grants will allow the project to proceed from route study (which is now underway) to design and construction work. The most recent $2 million grant is intended to be used as state & local matching funds for $8 million in federal transportation funds to be applied for in the future. In short, we are well on our way to making the connector route a reality.
Previous to these grants, the Southern Connecticut Regional Council of Governments obtained a grant of $108,000 to study a section of the route from Brookside Park in Meriden to the Meriden-Middletown boundary.  This study was recently completed, and the results may be viewed here.
Of the 23 miles between the western terminus of the Air Line Trail in Portland and the Farmington Canal Heritage Trail in Cheshire, approximately 8.5 miles already exists in the form of shorter trail segments along the way. Another 8.6 miles has been planned or is in the process of being planned. That leaves about 5.5 miles in special need of a routing study. The project has was recognized in state law in 2019 as the Air Line Trail – Farmington Canal Trail  (ALT-FCT) Connector. 
The Jonah Center has partnered with the Lower CT River Valley Council of Governments (the RiverCOG) in promoting the ALT-FCT Connector Route. The RiverCOG will be the recipient of the funds and manager of the project, in partnership with Middletown, Portland, Meriden, and Cheshire.
The route study will cover the entire route from the western terminus of the Air Line Trail near Camp Ingersoll in Portland to the Farmington Canal Trail at Jarvis Street in Cheshire. But special attention will be applied to 2 areas in Middletown: connecting the Arrigoni Bridge to the Mattabesset Bike Trail, and connecting the Westlake Bike Trail on Middle Street to the Meriden city line. 
The 23-mile ALT-FCT Connector, when completed, will consist of off-road multi-use trails for about 16 miles, and about 7 miles of on-road bike routes. Completion of the ALT-FCT Connector will ultimately enable completion of a 111-mile Central Connecticut  Loop Trail (shown below). Click here for a Google Map of the Loop Trail that allows you to zoom in for more detail.