The Jonah Center has acquired 2 aluminum utility boats, known as "jon boats" that will help us remove invasive water chestnut plants from the Floating Meadows and the Connecticut River next spring and summer. (The Floating Meadows is the freshwater, tidal marshland between Middletown and Cromwell by the Mattabesset and Coginchaug Rivers.)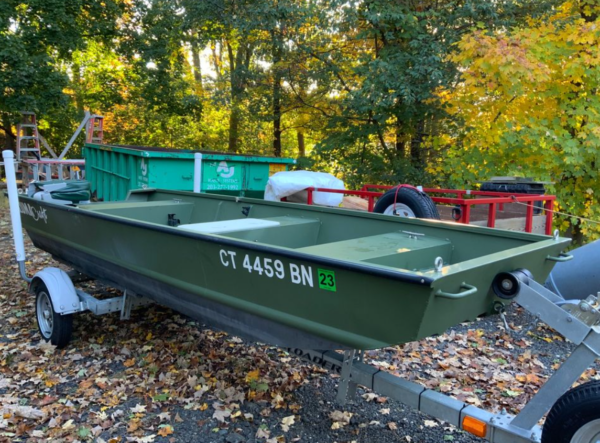 The Jonah Center purchased the 14-foot boat pictured here. It will be powered by a 10 h.p. outboard motor donated by Jim Sarbaugh. The other boat is a 12-foot, lighter boat donated by Kent Ritter. It can be easily towed. Both boats are equipped with oars and can be easily rowed into shallow water, which makes them very useful in this work.
The boats are important tools because most kayaks can hold only a single bag of plant material at a time. Also, water chestnut plants are proliferating far from public launch sites (requiring a long paddle to be reached) and in locations where the shoreline is not accessible for off-loading plants. Infestations of water chestnut have become worse in recent years, seriously threatening the river ecosystem.