Monthly Archives:
June 2019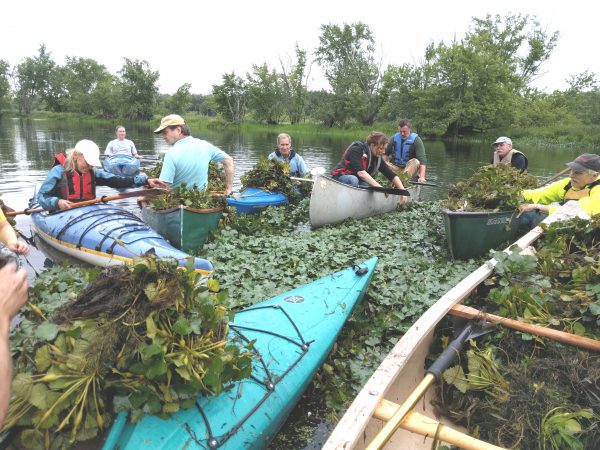 On Saturday, June 15, (Rain date Sun. June 16) from 10 a.m. to 12 noon, paddlers will return to the Floating Meadows to remove emerging water chestnut plants.  A second work party is scheduled for Sat. July 13 (Rain date Sun. July 14) from 9 a.m. to 11 a.m. Other work parties between and after these dates may be scheduled depending on the abundance of emerging plants.  Water chestnut plants seriously endanger other aquatic life in our local freshwater marshland. The launch site will be the usual one at 181 Johnson Street in Middletown. For information on possible last minute cancellation, check back on this post or call 860-398-3771.
Paddlers find this is to be a fun, gratifying activity.  Plus, you will meet some of the nicest people you'll ever encounter.  Bags will be provided and some gloves will be available, but we encourage participants to bring their own rubber dish-washing gloves.
Since China quit buying recycled materials from the United States, the recycling market and many recycling facilities in our country have been thrown for a loop.  Materials pile up, and contamination of recyclables (including putting things in the recycling bin that cannot be recycled) has wreaked havoc.  Here's an opportunity to get the situation straight. We need a healthy, viable recycling system. Here's now you can help.