The Jonah Center for Earth and Art calls all paddlers of canoes and kayaks to help remove harmful and invasive water chestnut plants from the lower Mattabesset and Coginchaug Rivers in Middletown.  Work parties of canoeists and kayakers are have gone out on 6 separate occasions, removing 40 canoes-full of plants.  We are scheduled again for Saturday, August 20, at 5 p.m., launching onto the lower Coginchaug from the Phil Salafia Canoe and Kayak Launch at 181 Johnson Street, in Middletown's North End, adjacent to the City's recycling center.  From there it is only a short paddle to the remaining patches.  Each work party lasts  approximately 2 hours.  We need as many canoeists and kayakers as possible to assist in this effort, but canoes are especially important to haul the plants out.  Paddlers need to bring their own boats, lifejackets, water,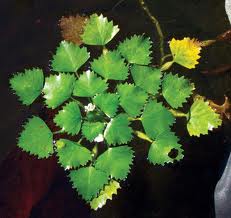 and other equipment.  Please watch this post for schedule changes.
Based on experiences in nearby tributaries of the Connecticut River, we know that water chestnut plants can spread very quickly and take over a waterway, choking out sunlight and oxygen and severely damaging fish populations and other forms of aquatic life. It is critical that we remove these plants and dispose of them properly before the problem becomes worse.  Water chestnuts drop their seeds or spiny "nuts" late in the summer, which makes this effort especially urgent.
These invasive water chestnut plants (a different species entirely from the food item commonly associated with Asian cuisine) can be pulled up by the roots using a simple, gentle technique. Knowing how harmful the plants can be, participants will find this activity to be gratifying and fun.  Through this rapid response action, we are hoping to arrest decisively further spreading, so that fewer plants will appear next summer.
Participants will be asked to sign liability waivers but will not be asked for a donation to support these work party events.
For any questions about this project, contact John Hall at 860-398-3771.