Beginning in 2012, the Jonah Center has encouraged the City of Middletown to build a 3- mile multi-use trail from Veterans Park to Tuttle Road, where it will connect with the current Mattabesset Bike Path in the Westlake area. The project is called the "Newfield Corridor Trail."
The Newfield Corridor Trail will allow hundreds of students in high density residential neighborhoods to bicycle or walk safely to 4 schools: Lawrence, Keigwin, Middletown High School, and Spencer. It will also be a huge step in creating bicycle access from Cromwell and the Westlake area of Middletown to downtown Middletown. Finally, this 3-mile section, added to 4.5 miles of the existing Mattabessett and Westlake bike paths, will complete nearly 8 miles of the proposed 18 mile Air Line Trail – Farmington Canal Connector Route, a regional project involving Portland, Meriden, and Cheshire that the Jonah Center has been spearheading.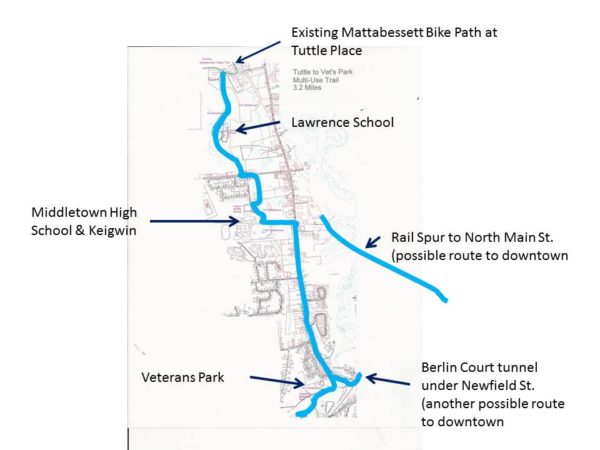 As shown in the map above, the trail's envisioned route lies on the west side of Newfield Street between Veterans Park and LaRosa Lane, where turns toward Middletown High School. From there it follows a sewer right-of-way to Mile Lane, then beside Kaplan Drive to Lawrence School. From the school, the trail will likely continue north across city-owned open space to Tuttle Road and the existing Mattabessett Bike Path. A more detailed map of the Newfield Corridor Trail may be found here..